Depending on where you bought your subscription, the following instructions will help you to deactivate the automatic renewal and thus cancel your subscription. Your subscription will remain active until the end of the paid term. You will still have access to your subscription for the remainder of time you have already paid for. Your subscription will stop at the end of the current billing cycle. It will not be renewed.
Subscription through the Zattoo Shop:
You can cancel your subscription up to 48 hours as follows:
In the Internet browser:
Log into your Zattoo account: Login
Click on the menu icon
Click on "My account".
Subscriptions > edit
automatic renewal > off
save by "Update subscriptions"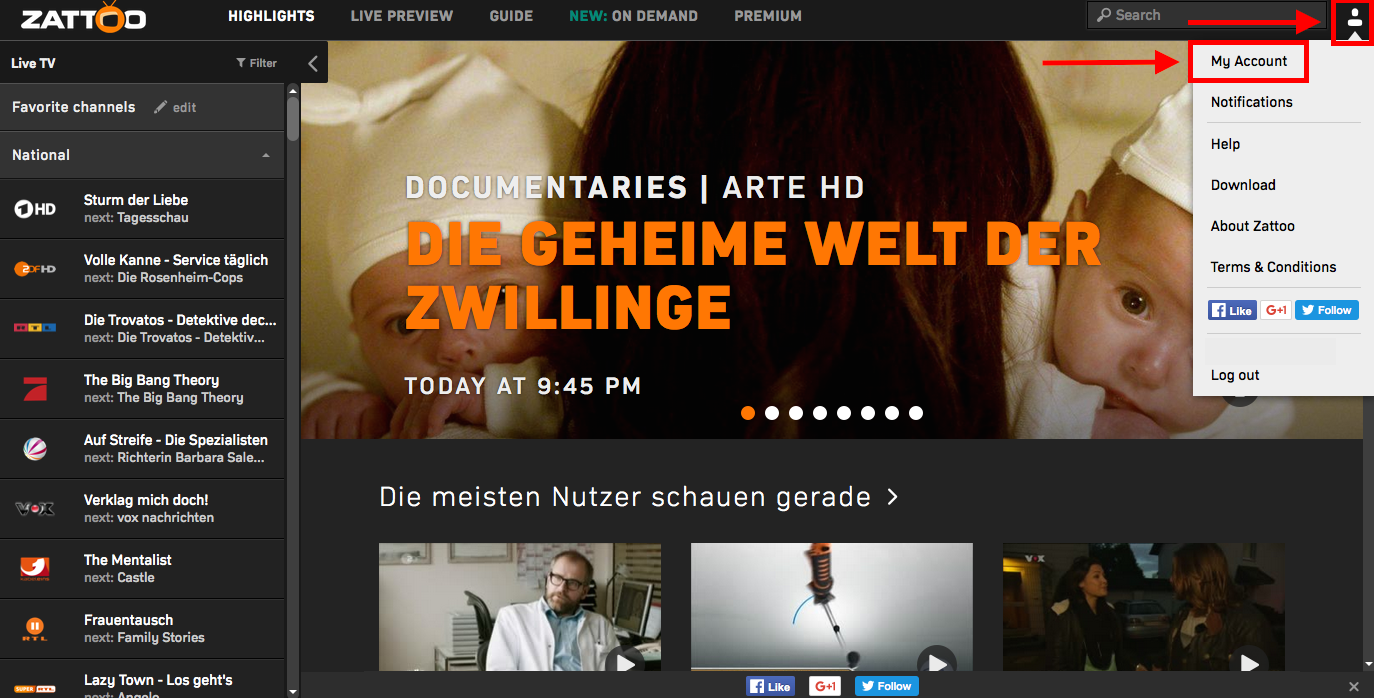 In your account you will find the section Subscriptions, please click on the Edit button. There you will see the on/off buttons. Please do not forget to save changes once auto-renewal is changed (click on the picture to enlarge it):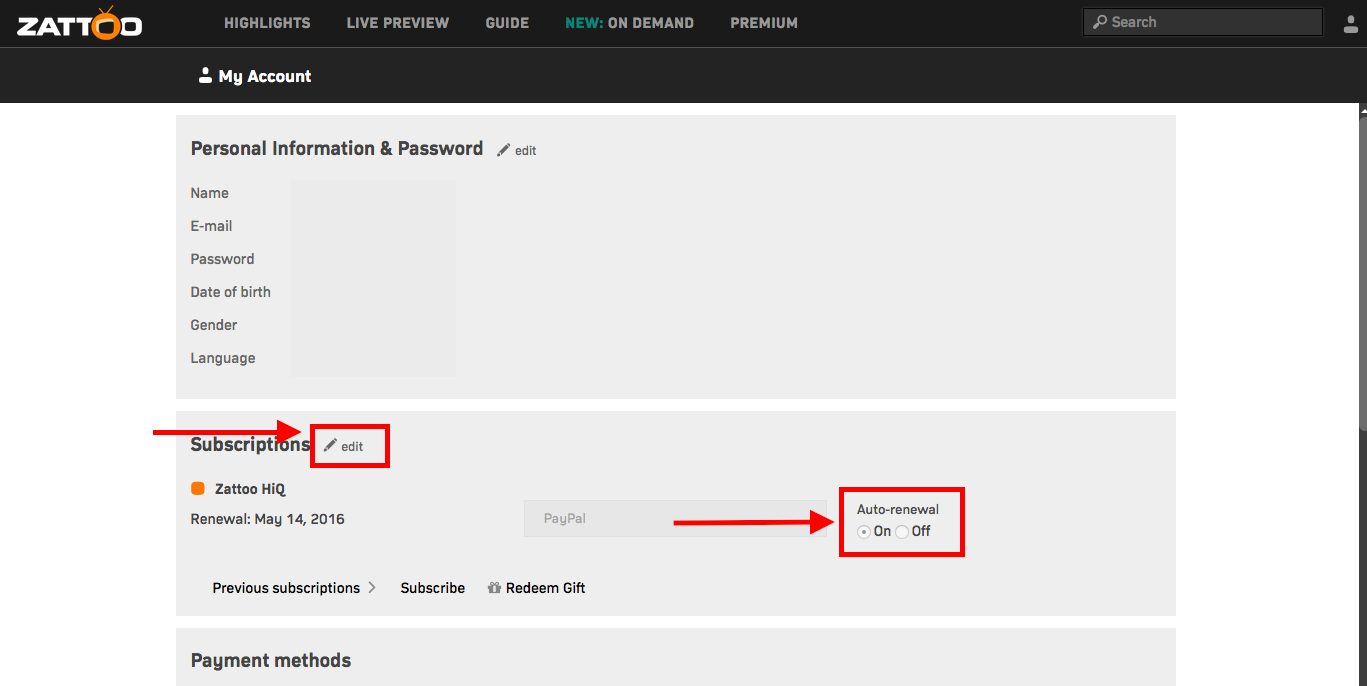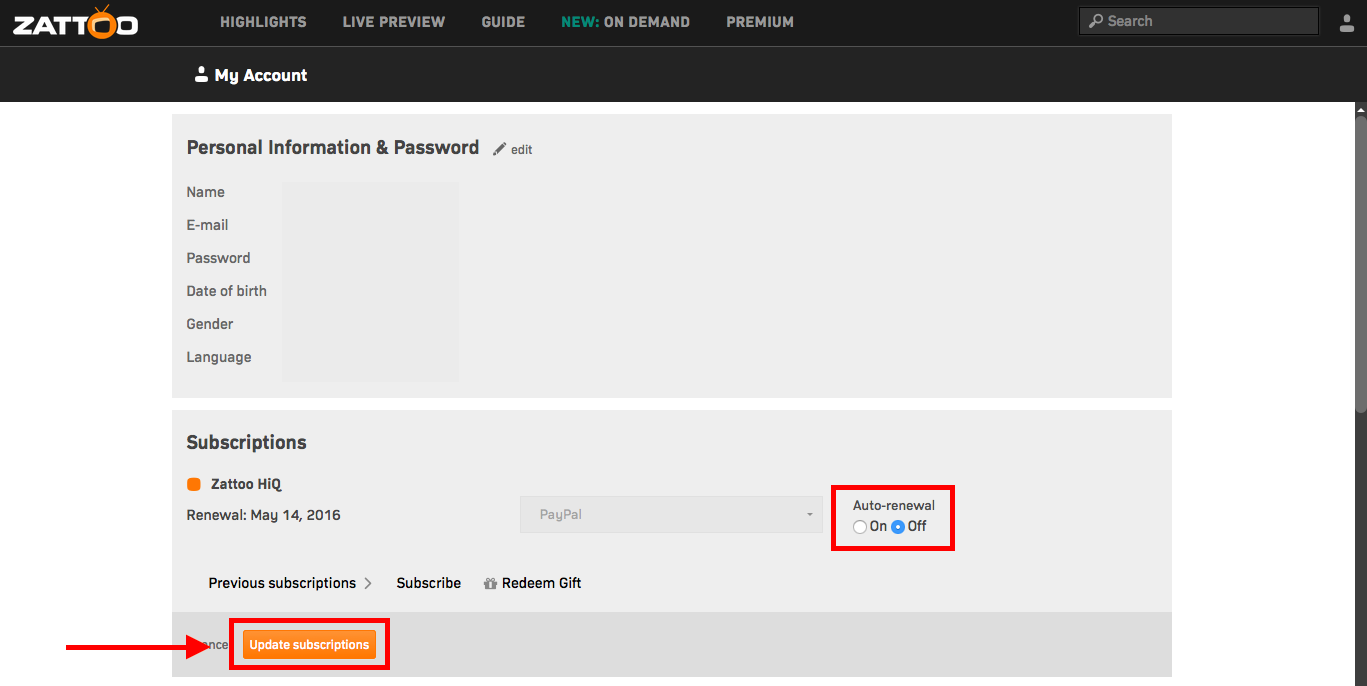 iTunes subscriptions:
For all transactions via the iTunes AppStore on your iPhone / iPad:
Your subscription must be cancelled directly in the AppStore of your iOS device. Go to your iTunes & App Store account on your Mac or iOS device to cancel your subscription. 
On your iPhone or iPad: Instruction
Go to "Setting > iTunes & App Store".
Tap your Apple ID at the top of the screen.
Tap View Apple ID. You might need to authenticate your Apple ID.
Tap Subscriptions.
Tap the Zattoo subscription
Manage your subscription here using the options.
Press "Cancel subscription" to cancel the subscription. Your subscription remains active until the end of the paid term and will not be renewed.
Please take note that we do not have any access to the external transaction of the iTunes AppStore. If you have any contract- or payment related questions, please contact Apple Support for help. 
Google Play subscriptions:
If you subscribed through the Google Play Store, please proceed as follows: Instruction 
In your Zattoo app:
Go to My Account.
Select your PREMIUM subscription.
Tap Change.
You will be automatically redirected to your Google Play account. 
Cancel and confirm your cancellation.
Cancel your subscription on Google Play:
On your Android phone or tablet, open the Google Play Store.
Tap Menu Icon > Subscriptions.
Tap Zattoo TV.
Tap Cancel subscription.
Follow the instructions. 
In case you need help, please contact us and send us your Google Play order number and your registered email address.
Amazon Appstore subscriptions: 
If you purchased your Zattoo subscription on your Fire TV, you can only cancel it directly in your Amazon account. Amazon Appstore subscriptions must be cancelled directly with Amazon. For further instructions, please click here. Please note that we do not have any access to the external transaction of Amazon. Please contact Amazon Support directly for all payment and contract related inquiries.
GMX /WEB.de subscriptions:
Please note that contracts concluded via GMX / WEB.de must be cancelled directly with GMX / WEB.de. Further information can be found in the confirmation email you received from GMX / WEB.de after registering for the Zattoo option. For further questions, please contact GMX / WEB.de Support directly: 
WEB.de: vorteilswelt@info.web.de
GMX: vorteilswelt@info.gmx.net
Salt PREMIUM / HD option:
The Zattoo HD / PREMIUM option must be disabled directly with Salt. Log into your Salt account here: Login
Please contact Salt Support if you need assistance: Salt Contact
Not sure where you booked your subscription? In this case, please contact us via our contact form and send us your Zattoo registered email address.
We would really like it to see you back at Zattoo. Our free service Zattoo FREE will remain active after your subscription has expired. You can use the same login data to access.